DE GOOISCHE BROUWERIJ (75cl)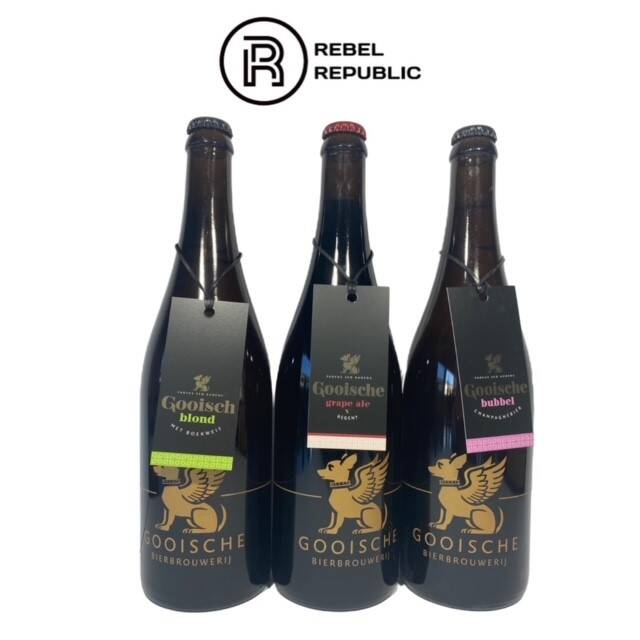 De Gooische Grape Ale no. 5 is gemaakt met Regent-druiven van het Betuws Wijndomein uit Erichem. Deze rode Grape Ale zet je van de eerste tot de laatste slok op het verkeerde been. Heb ik hier bier of rode wijn in mijn glas?
Gooische Bubbel Champagnebier is een blond champagnebier afkomstig uit Nederland. Dit bier is sprankelend door de gebruikte champagnegist. Het aroma die in de neus naar bovenkomt, is zoet met een hint van tropisch fruit. Je proeft een zoete smaak van tropisch fruit met een zure hint van champagne. De afdronk is licht bitter. Hij heeft een alcoholpercentage van 8%.
Gooische Blond. Een blond bier, maar dan volgens ons recept. Met boekweit dus. Mild bitter met een zacht hoparoma. De boekweit geeft het bier een frisse kruidigheid.
Gooische Bubbel Champagnebier is a blond champagne beer from the Netherlands. This beer is sparkling because of the champagne yeast used. The aroma that emerges in the nose is sweet with a hint of tropical fruit. You taste a sweet taste of tropical fruit with a sour hint of champagne. The aftertaste is slightly bitter. It has an alcohol percentage of 8%.
Gooische Blond. A blond beer, but according to our recipe. So with buckwheat. Mildly bitter with a soft hop aroma. The buckwheat gives the beer a fresh spiciness.